CAMPAIGN : HEALTHY AGEING CAMPAIGN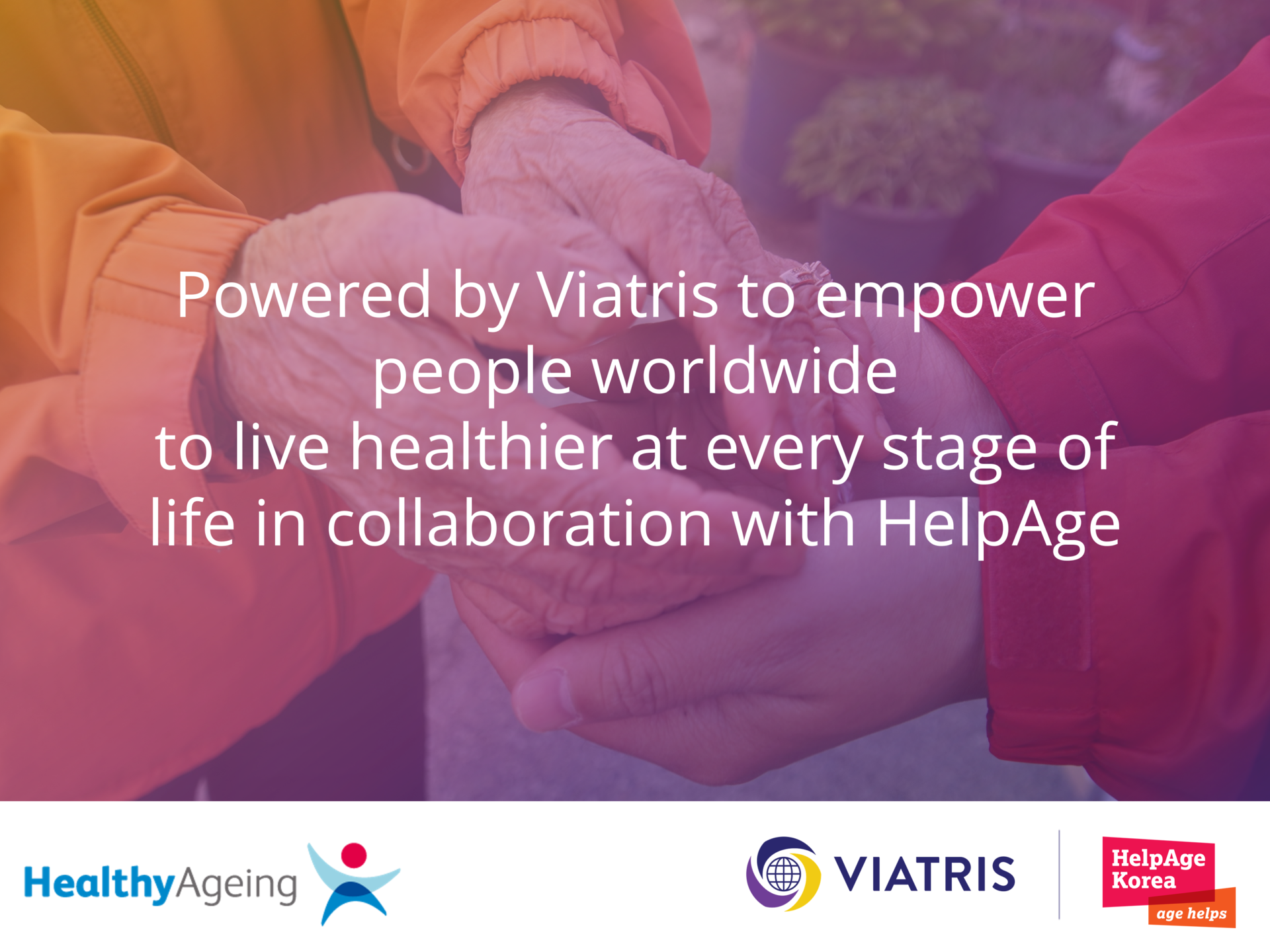 MILESTONES :
2013: Launched the 'Healthy Ageing campaign'
2016: Expanded the campaign in partnership with HelpAge Korea
2019: Launched 'Healthy Ageing Campaign Season 2' along with an employee-led volunteer group



2020-current: Supported the physical and mental wellbeing of the under privileged elderly in the face of the extended pandemic
Health matters to everyone, and every individual has a right to live a healthy life regardless of gender, age, income, and race. Viatris Korea has been taking steps to various initiatives to highlight the importance of preventing and managing non-communicable diseases (NCDs) and other conditions to create a healthier society.

In regards of ageing population, an emerging global issue, 'Healthy Ageing Campaign' was launched in 2013 by one of Viatris' legacy companies to promote social discourse on ageing by engaging with various stakeholders to help people live a healthier life.

'Healthy Ageing campaign' has contributed to raising public awareness on ageing through a range of activities such as conducting nationwide surveys, publishing the 'Healthy Ageing Index' and organizing 'Healthy Ageing Forum' in collaboration with healthcare professionals and other stakeholders. In 2016, 'Healthy Ageing Campaign' formed partnership with HelpAge Korea, a sister organization with HelpAge International, which has expertise and global networks to advocate for healthy ageing.

'Healthy Ageing campaign Season 2' began in 2019 to carry on its values and expand the program to support the healthy life of underprivileged seniors who are vulnerable to NCDs. 'Healthy Ageing campaign' sponsors HelpAge Korea's senior centers in Seoul, Gyeong-gi, In-cheon, Daegu, and Busan to offer senior programs on various topics such as healthy diet, exercise and NCD management to promote the physical and mental well-being of elderly citizens. In addition, Viatris Korea's employees created a volunteer group to help seniors in need as part of the campaign.

As the pandemic drags on, underprivileged seniors are more isolated than ever in their daily lives. Against this backdrop, Viatris Korea reached out to these senior citizens to help them maintain a healthy daily routine by providing meal boxes, personal protection supplies, and edible garden kit for emotional support. Moreover, Viatris Korea has joined hands with HelpAge Korea to renovate senior centers to create a healthier and safer environment for the seniors.

Viatris is a global healthcare company formed in November 2020 through the combination of Mylan and Upjohn, a legacy division of Pfizer. Viatris is committed to empower people worldwide to live healthier at every stage of life via 'Access', 'Leadership', and 'Partnership': Access to provide high quality, trusted medicines to patients regardless of geography or circumstance; leadership in advancing sustainable operations and innovative solutions; partnership to leverage collective expertise to connect people to products and services.